All-Inclusive Golf Packages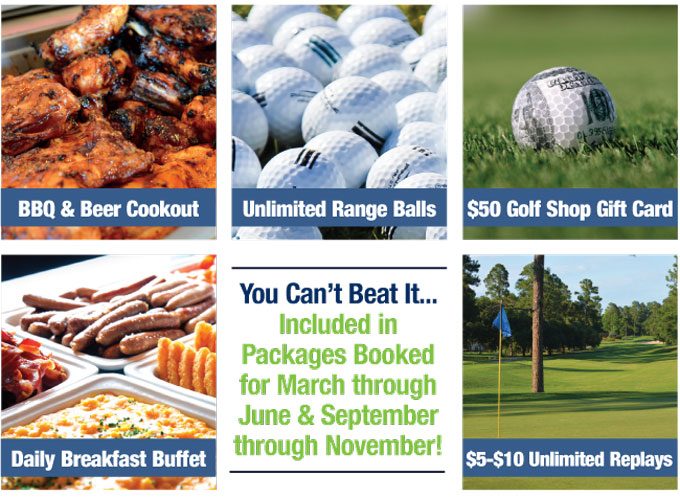 Seasonal golf packages with overnights at Lake Marion Golf Villas & Townhouses automatically include an amazing assortment of value-added benefits!
What all-inclusive package pricing means for your group is substantial savings on the things golfers typically pay for once they are here on their trip…replay rounds, range balls, daily breakfast, a dinner out, golf gear, souvenirs and more.
When you book with the golf vacation experts at Santee Cooper Golf & Travel, you get your choice of 14 championship courses and our "No Hidden Fees Guarantee": Lodging, green fees, cart fees and taxes included in your package price.
Here's what you get…
GOLF
Unlimited Free Practice Balls at most partner courses*, including Lake Marion's lighted range
$5 – $10 Unlimited Replays at 4 Partner Courses* on the same day of play; space available basis
$200K in Course Renovations at Santee Cooper Country Club…new tees, bunkers and cart paths
Improved Conditioning & Facility Upgrades at Lake Marion Golf Course
ACCOMMODATIONS
New & Improved Lodging – Brand new Lake Marion Townhouses and updated Golf
Villas featuring new furniture and HDTVs
New Outdoor Pool Complex exclusively for Lake Marion Golf Villa & Townhouse guests (April-October, weather permitting). The pool is cooled in the summer and heated in spring and fall!
Daily Towel Service at the Lake Marion Golf Townhouses and Villas
DINING
Santee Breakfast* – Fresh hot breakfast buffet served 6:00-8:30 a.m. daily; choices different each day and can include eggs, sausage/bacon, fresh fruits, cereals, breakfast casseroles, donuts, southern french toast casserole and more.
Southern BBQ & Beer Cookout* 5:30-7:00 p.m. Tuesday or Saturday night (in-season only) – Enjoy pulled pork BBQ, grilled chicken, southern sides, beer and sweet tea.
Pasta Night* 5:30-7:30 p.m. Thursday night (in season only)
SHOPPING
$50 Gift Card for each player – valid at Lake Marion Golf Course and Santee Cooper Country Club for food, beverage, replay and merchandise.
* Breakfast, gift cards and cookout included in packages booked for March through June and September through November. They are NOT included in packages booked for December through February and July through August.
*Partner courses include Lake Marion Golf Course, Santee Cooper Country Club, Santee National Golf Club and Wyboo Golf Club.
Note: Pricing for all golf packages is all-inclusive. No changes/substitutions may be made to package components; no refunds will be made for package components not used/redeemed during stay. Also included in the package is a free Wi-fi service and a special offer from our partner. Want less benefits? Packages with Santee Cooper Golf & Travel partner hotel/motel/inn accommodations include only the Unlimited Free Practice Balls and $5 – $10 Unlimited Replays at partner courses.