Welcome To Santee Cooper Golf & Travel

Golf's Greatest Destination Value
Santee is hands down the best-valued golf vacation on the East Coast. Just ask the thousands of golfers who travel to the area each year. The area's proximity to Interstate 95 makes it an extremely easy to find golf destination, and our good ol' southern hospitality is unlike any other. This year you can have a great golf experience that is easy on the wallet. Plan your golf trip to South Carolina's #1 Value Golf Destination... SANTEE!
Enjoy 14 Championship Golf Courses
With 14 championship courses in the Santee and surrounding area, you are never far from any of your choices. Many of these fine courses have been ranked by Golf Digest™ Places to Play Guide. Enjoy classic tree-lined layouts, dramatic elevations, views of beautiful Lake Marion and a good dose of Southern hospitality from your hosts. As you play your way around Santee, you will notice each and every course has been designed for maximum enjoyment and a thrilling challenge. Our staff will help with course selection to fit your group needs.
New! All-Inclusive Golf Packages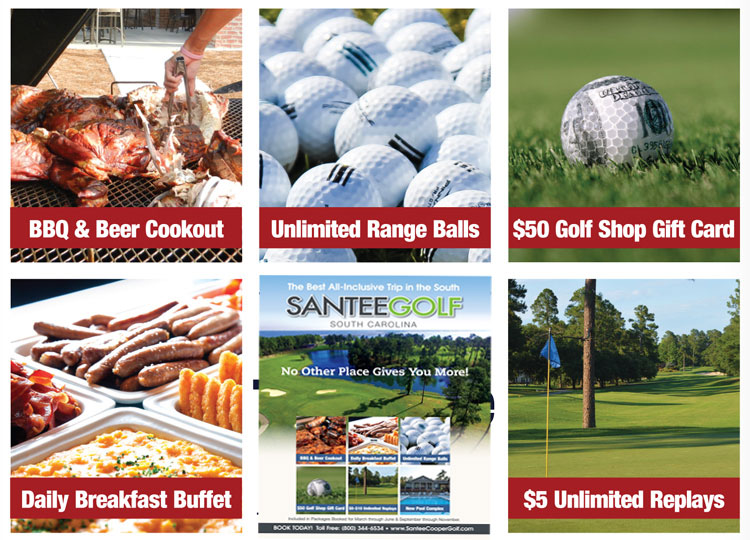 Seasonal golf packages with overnights at Lake Marion Golf Villas & Townhouses automatically include an amazing assortment of value-added benefits!
What all-inclusive package pricing means for your group is substantial savings on the things golfers typically pay for once they are here on their trip…replay rounds, range balls, daily breakfast, a dinner out, golf gear, souvenirs and more.
---
Why Santee Cooper Golf & Travel?
Because our golf vacation professionals know Santee better than anyone. Customers like you expect expert advice on where to play and where to stay on a golf vacation. With more than 20 years of golf travel experience our staff will help you plan your trip down to the final detail, while keeping your budget a top priority. The result is a great golf vacation at a tremendous value. More than 85% of our business is repeat business which speaks to the level of service and the quality of the Santee experience. However, don't just take our word for it. Here is what a recent customer emailed us...
Making golf travel affordable and fun for 40+ years.

---
WHAT OUR CUSTOMERS ARE SAYING...
VIEW
Hey! Just wanted to let you know all the guys were impressed with all the changes made to our yearly visit to Santee. The rooms were great and Denise and her crew are outstanding. The Thursday night buffet was very good and the breakfasts were fantastic. We hope this will continue. Of course you did your usual fantastic job of setting everything up. We were all pleased at  the condition of the course especially the refurbishment of the Santee Cooper course. If I were to rate everything I would give it five stars!! It was great to see you again. Even though I am no longer in charge of putting the trip together. It has been a pleasure working with you. Please pass this on to your management people and those that served us so well. Look forward to seeing you next year.
Laura, I would like to Thank You and the entire staff for making our Golf Trip memorable. You were patient with me trying to decide which package to choose, and I couldn't have been happier. We have been going on these annual  Golf Trips for 16 years, and this year (Our 1st  at Santee)  was one of the most enjoyable. We stayed in the Golf Villas and played Santee Cooper and Lake Marion twice.  Both courses were in great condition, and suited the many different skill levels in our group. The Lake Marion Villas accommodations were second to none as far as I'm concerned. It is by far the most convenient place we have ever stayed.   Where else can you drive the golf cart back to the villas?  No where. The Villas were very clean and roomy. The grills right out side our rooms were a big hit as well. We look forward to coming back around the same time next year.
Just wanted to let you know how pleased we were with the package you set up for us. The accommodations, the courses and tee times and the weather were all really great. Thanks you so much!
I just wanted to say THANK YOU for all your help in organizing our golf trip. My group had a FABULOUS time and can't wait to come back again next year. We really enjoyed the golf courses. The staff at each course could not have been more helpful and accommodating. They really made us feel welcome. The fall colors were just beautiful and we lucked out on the weather too. Everyone was so impressed with the North Shore condos. They all want to stay there again next year. We had a great dinner at Clark's Restaurant. Service was great there too. Everyone just kept thanking me for such a great trip. Thought I'd pass this along to you.
We had a fabulous time for our golf outing. The courses were fantastic and we thoroughly enjoyed ourselves there. The Best Western was a great choice for us right next to Lake Marion Golf Course with the driving range right there. All felt like the money was well worth the package you had set for us. It was a memorable weekend for all.
We would like thank you and the Lake Marion staff for the help you gave and how you did everything to help . We always joke about southern hospitality but now we have lived it . Thanks again we will spread the word about Lake Marion & Santee Cooper
Gord McCurdy & The Boys of Tillsonburg
I want to thank you and the staff at Lake Marion and at Santee Cooper for your hospitality and assistance during our trip. We truely had a great time and I am looking forward to our next trip.
I certainly appreciate the hospitality from all the fine folks in Santee on our golf outing this past Monday through Wednesday.  I especially appreciate all of your efforts in making our stay a great and enjoyable experience.  All of our guys were very complimentary of the accommodations, golf courses, good food, and relaxing atmosphere we experienced. During  this inaugural outing, we decided to make this an annual event as a reunion for all of us old retired southeastern region Army National Guard Chiefs of Staff, and to rotate the venue among the 13 states.  However, everyone agreed that they couldn't match the total package you provided in their own home state and all wanted to return to Santee next year.
Couldn't Match the Total Package You Provided